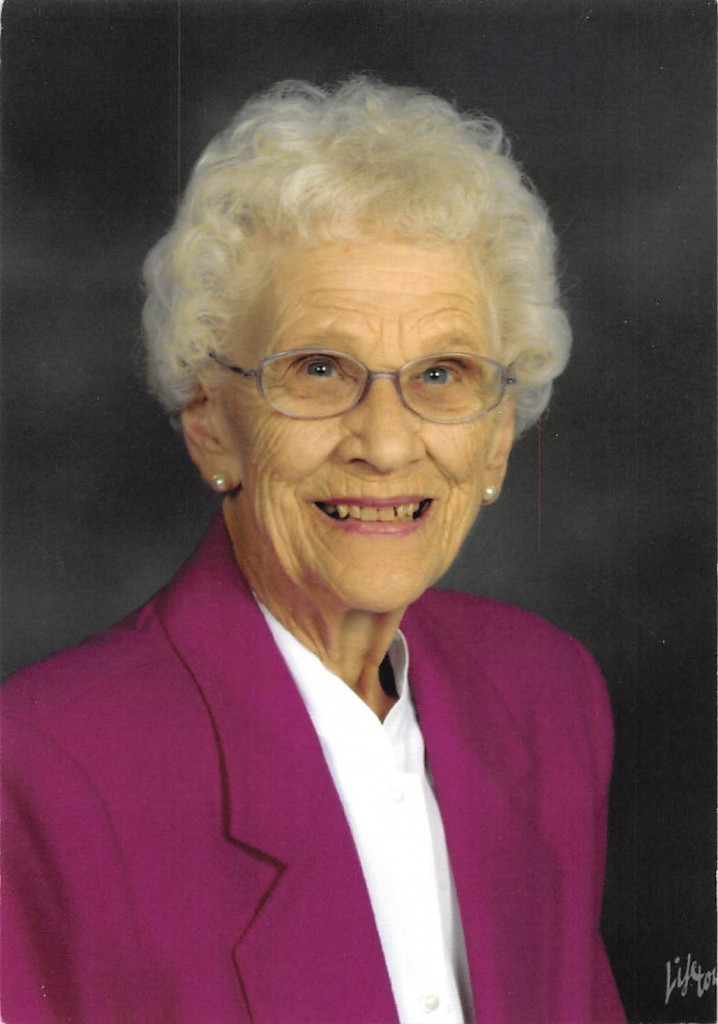 In Loving Memory
July 18, 1912
-
January 4, 2018
Born in Crestline, Ohio
Resided in

Crestline

,

Ohio
Obituary
Jeannette Emily Frost, 105, formerly of Crestline, went to her final resting place on January 4, 2018, at Mill Creek Nursing and Rehabilitation in Galion where she has been a resident the past 8 years.
Jeannette was born July 18, 1912 in Crestline, Ohio, to Howard Franklin and Emma Katherine (Baldinger) Foltz, who was also a centenarian at age 100. She graduated from Crestline High School in 1930 and played clarinet in the marching band and orchestra. She was formerly employed in retail department stores and worked as an inspector for the State of Ohio, Division of Women and Minors from 1959 until her retirement in 1979. Jeannette was a member of Calvary United Church of Christ in Crestline, where she was active as Treasurer of Ruth Missionary Circle, Tabitha Society, member of the choir, and volunteered her time at many rummage sales, church luncheons, Crestline Community Christmas programs, and Prayers and Squares Quilt Ministry. Jeannette was a member of former Crestline Harmony Chapter #43 Order of Eastern Star and received her 50-year pin in 2011 from Bucyrus Chapter #3. She worked on the Board of Elections for several years, was a member of Public Employee Retirees, Inc., a former member of Business and Professional Women, volunteered at the Crestline Historical Society, and rode their float at the Harvest Festival.
Jeannette was honored as Citizen of the Year at Crestline K of C on March 17, 2007.
Jeannette married Coder Earl Frost on October 5, 1935. They enjoyed dancing, traveling to Chicago on their honeymoon and dancing to Big Band music. He preceded her in death on January 10, 1951.
Her positive attitude and feisty personality made Jeannette a pleasant and fun-loving friend and exceptional mother. Known for her kind words of encouragement, she would tell others to "take the bitter with the sweet, do the best you can, and not complain about it." Jeannette was also a cancer survivor since 1995. She kept the faith until the end, building on the love of her church, friends, and family, and loved to sing along to hymns and old songs until her last breath. When asked before her 104th birthday how old she would be, Jeannette answered, "I'm a Spring chicken."
Jeannette loved shopping, especially for clothes, and was a stylish dresser. She enjoyed socializing with friends, traveling, playing cards, and making afghans of woven yarn blocks. Jeannette was active in her church with Ruth Missionary Circle, Tabitha, Prayer Square and Quilt Ministry, helping make anise cookies and hard tack candy, wedding receptions, rummage sales and bazaars, and many other church activities. She also enjoyed watching OSU football and Cleveland Indians baseball games.
Left to cherish her memory include son Jack (Bonnie Alexander) Frost of Dublin and daughter Joedy Studer of Mansfield; special former daughter-in-law Dana (Roy) Grubbe of Bexley; grandchildren: Dawn (Mark) Chandler of Virginia; Jack Frost, Jr. (Victoria Cannon) of Bexley; Earl (Duke) Frost of Newark; Karen (James) Bittner of Mt. Gilead; Karla Martinez of Indianapolis, Indiana; Joe (Karen) Alexander of Hillsborough, New Jersey; Chris (Jill) Alexander of Hilliard, Brittany Alexander of Galloway, David Studer of Shawboro, North Carolina; Michael (Michelle) Studer of Canal Fulton; Jeffrey (Kathleen) Studer of Austinburg; Matthew (Beatriz) Studer of Stow; Douglas (Anna) Studer of Germantown; great-grandchildren: Gordon Chandler; Sam and Max Frost; Emily, James, Eric, and Kristen Bittner; Gabriel, Miguel, and Samantha Martinez; and step great-grandchildren: Joe and Jordan Alexander; Nicole, Lauren, and Kaitlyn Alexander; Rebekah (Pete) Stout; Megan (John) Erwin; Derek, Danielle, Hector, Cassandra, Lillian and Jonathan Studer; great-great-granddaughter Victoria Looman; step great-great-grandchildren: Dean and David Erwin and Elle Stout; a nephew Doyle (Frances) Eckert and great-nephew Bryan Eckert, friends, and other relatives.
In addition to her parents, she was preceded in death by her husband Coder and son-in-law Ron Studer in 2011; brothers Merle (Elnora), baby John, and Ned (Florine and Ruth) Foltz and sister Pauline (Forest) Eckert at 103; brother-in-law Ira (Mona) Frost and sister-in-law Ruth Frost Armstrong; and mother and father-in-law Glydia Venora Frost Shenefield and Frank Frost.
Friends may call on Monday, January 8, 2018 from 4:00 PM to 7:00 PM at the Schneider-Gompf Funeral Home, 223 West Main Street, Crestline. Friends may also call one hour before the funeral service at 11:00 AM, from 10 AM to 11 AM on Tuesday, January 9, 2018 at Calvary United Church of Christ, Crestline, with Rev. Gary Proietti officiating. Burial will follow in Nevada Cemetery, Nevada, Ohio.
In lieu of flowers, memorial contributions may be made to Calvary United Church of Christ or charity of donor's choice. The family would like to express their thanks to Mill Creek for their care and concern the past eight years.
Schneider-Gompf Funeral Home is honored to assist the family with arrangements.
Online condolences may be made to the family at masfh.com
To send flowers or a remembrance gift to the family of Jeannette Frost, please visit our Tribute Store.
Services
Visitation
Schneider-Gompf Funeral Home
223 West Main Street
Crestline
,
OH
US
44827
Visitation
Calvary United Church of Christ
511 Heiser Court
Crestline
,
OH
44827
Service
Calvary United Church of Christ
511 Heiser Court
Crestline
,
OH
44827
Burial
Nevada Cemetery
St. Rt.
Nevada
,
Oh
Crawford
44827